Do you need to rethink your brick-and-mortar business model and shift it online? How do you set up your freelancing business/online business or manage your employees and team now that you can't physically see them across the room from you?
We know there are people out there struggling right now and don't know where to start. Our Lifeblood team has been working online for years and want to show you the exact tools and systems we use to be successful.
The good news is that you don't need to use 40 different applications to manage your team and clients. There are a few online management tools that are business mainstays and we will teach you how to use them so that you can simplify your business.
Now, it's important to note that these are just the tools that we use within our company and for our team. You may have other tools or find something else online that fits better into your workflow or systems, we just found these to work great for us.
The main areas we want to cover can be separated down into:
Finances
Task management
Time tracking
Scheduling
File management
Communications
Finances: Quickbooks
For the realm of finance, we strongly suggest getting QuickBooks. QuickBooks is the seasoned veteran of software when it comes to your management of finances, and as someone who likes to be at the forefront of technology, their apps that have some pretty cool features. Such as the automatic mileage tracking on the app which will record all of your trips and put them into your expenses without you having to do a thing. Now, since working at home, I'm not exactly doing much driving, but the automatic connection to your business bank accounts makes it super easy to have all of your expenses automatically brought into QuickBooks and categorized. This is probably something your accountant would really love, too, if you manage everything through Quickbooks, since the majority of them do utilize this platform for doing your yearly taxes.
Check out QuickBooks Online and get 50% off for your first 6 months.
Task Management: Asana
If you're working with the team, other people, or just on your own, it's important to keep yourself on task and make sure that you have everything written down that you need to do with some achievable due dates. Some people would prefer just to do this using their own notebook, but we like to try and be a little more efficient when it comes to keeping our entire team on task by using systems such as Asana. Asana has become integral to the management of our marketing agency, being able to separate all of our clients into their own projects, create task templates for every time we start a new project, and with amazing team features that keeps everyone in the loop and allows us to easily share information, and to check in on where team members are with their tasks.
Time Tracking: Toggl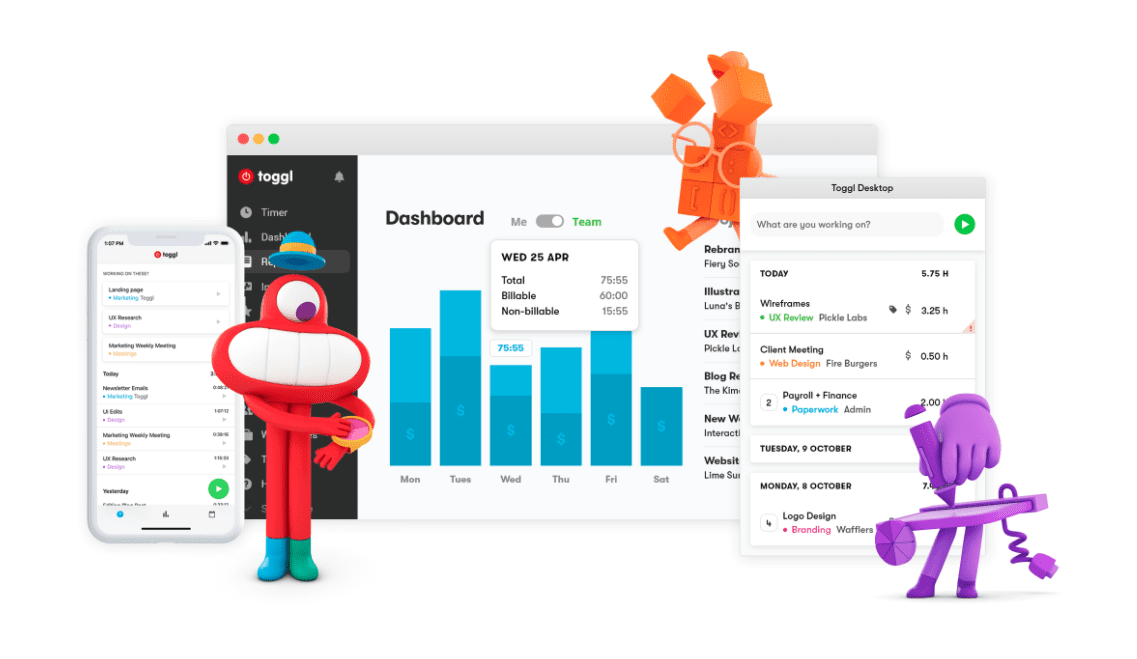 If you are a contractor and your prices are based on the time it takes you to do something, it's important to make sure that you are tracking all the time that you're spending on any client projects so that you can look back on it and make sure that you are billing correctly. This is doubly true when you are working in a team of people, as you will want to make sure that they're all spending a reasonable amount of time on each client. To track all of our team's time we use Toggl. It's a spectacularly simple program that has a desktop app, web app, phone app, can do automatic tracking, and has integration with our Asana task management tool so that time can be tracked to the appropriate client.
Scheduling: Google Calendar and Calendly for Clients and Your Team
These tools fall into the time management category. It's very important to make sure that you block out sections of your day that you can dedicate solely to work, but also have areas where you can have clients and team meetings. We try to have as many structured meetings as possible to keep our company flowing and our team members on track. This includes having at least one team meeting to review all of our client projects at the beginning of the week, and another team meeting at the end of the week to review how everything went throughout the week. We keep our entire team schedule managed using our Google calendar for business. This allows us to share calendars and be able to see where our team members are available, and easily coordinate meetings with very little need for multiple emails or messages to try and find times that work for everyone. This works great for our team, but it could be a bit more difficult when you're trying to schedule meetings with potential or current clients.
For this, we use an app called Calendly, which allows us to create bookable meeting links where our clients can pick a time and day that works best for them and also for all the team members involved. Calendly integrates with our team's Google calendars so that only blocks of time that work for all parties are shown to the client so there is very little chance of meetings getting double booked.
Check out G-Suite for Google Calendars
File Management: Google Drive
We are first and foremost a web design company, and given that, we have to deal with a lot of files that need to be shared with many different departments. From the designer's Photoshop files, the writer's content documents, social media calendars, and anything that the client shares, we need these multiple documents to be accessible to all our different team members. 
Since we already use Google Apps for Business for all our emails and calendars, this gives us access to a team file Drive in the form of Google Drive. We utilize Google Drive to create a master share folder for our entire company that includes all team members. It also allows us to share individual folders for each client for them to drop any assets that we need for their projects. Google Drive has also allowed us to easily collaborate in real time on any of our content documents, content calendars, financial planning, or presentations, as it comes with Google Docs, Google Sheets, and Google Slides, which are all great office applications for managing your business and team.
Check out G-Suite for Google Drive
Communication: Slack and Google Meet
Since our entire team is remote, we don't have the benefit of just being able to walk over to someone's desk for asking quick questions or getting a sign-off on something. So it is imperative to find other means of constant communication with your team. In our regular work day, we use slack for all of our team messaging. Slack has become quite the industry standard for team chat, with most other companies just trying to play catch-up or copy what slack has already achieved. Slack can also be used to manage communication across multiple teams or companies utilizing their extremely intuitive channel system.
Now even though Slack does support voice features, as well as video calling if you upgrade, our team prefers to go with what we have found to be a very reliable video conferencing system within Google Meet. Google Meet allows us to create some very quick meeting links that are easy for our clients and team to jump on at a moment's notice without having to install any new applications or try and figure out a complex interface. The integration with Google Calendars also makes it extremely easy to always have a video conference link attached to all calendar invites for our clients to intuitively jump on when the meeting time hits. Though not as fully featured as the other big hitters in this area such as Zoom, or GoTo Meetings, our team finds Google Meet to have just the features that we need, and nothing more, and it's completely free with our Google Apps for Business.
Check out Google Meet for Video Conferencing.
Check out Slack for team chat.
Again, these are just the applications that we use to manage our team remotely and completely online. If you would like to set up your business on these tools, we are here to help you with this, train you, and integrate anything you need, www.lifebloodmarketing.ca
Reach out to us and we can get started, or leave a comment on some of the other tools you or your team would recommend.